Haier HWD1700DW Washer Dryer Combo First Impressions
Washer
Haier's updated washer/dryer combo gets an automatic detergent dispenser
Design & Usability
Streamlined, with a new automatic detergent dispenser
The 1.9 cu. ft. HWD1700DW has a squared-off control panel that's meant to fit snugly under a kitchen countertop, where combo washer/dryers often live. Its crisp lines give it a more modern look than its predecessor, which is important since space constraints mean that combos are usually installed in plain sight. Unfortunately, the model that was on display was a prototype, so we couldn't see the controls lit up.
By far, this combo's most interesting feature is an automatic detergent dispenser. Put in 500 ml—enough for about ten washes—and the machine will dispense detergent every time you do a wash. It's a good feature if you don't want to store a big bottle of laundry soap near the combo.
Features & Performance
Don't get your hopes up. Combos are about convenience, not performance.
Most freestanding dryers create heat with either a gas or a powerful 220-volt electrical connection, and vent moist air through a wall to the great outdoors. Like other combo washer/dryers, however, the Haier HWD1700DW runs off a standard household outlet and uses a condenser to collect excess moisture, like a big dehumidifier. Without enough voltage to create heat and without a vent to the outside, combo washer/dryers usually wash small loads well enough but struggle when it comes to drying—often taking more than three hours to finish and leaving clothes still damp. It's not that manufacturers are doing anything wrong—it's just the nature of the product they're building.
If you buy the HWD1700DW, we recommend you wash small loads every day, allowing clothes to dry overnight. For this machine's target audience, it's either live with drawbacks, or keep schlepping stuff to the laundromat.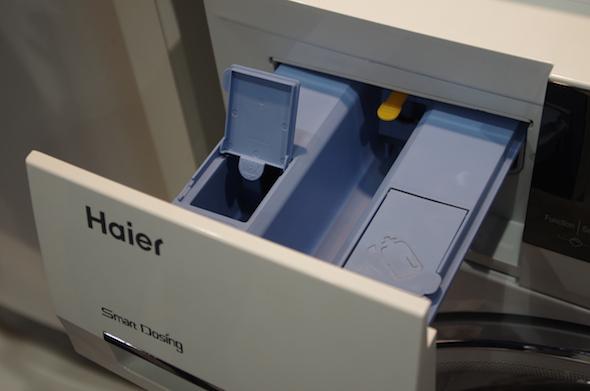 Conclusion
If your living situation calls for one, this will be one of the least expensive combo washer/dryers on the market.
Combo washer/dryers aren't for everyone. Because of the constraints they must work under, their performance is rarely on par with a pair of individual machines. Unless you absolutely cannot install a 220-volt outlet or vent and only have room for a single laundry appliance, you should probably pass them by.
If, however, you want to do laundry in your home but only have access to a 120-volt outlet and a water hookup, Haier's latest machine offers some cool features and a low price.